Higher Education: overview
Pearson is the US' largest publisher of textbooks and related course materials for colleges and universities. We publish across all of the main fields of study with imprints such as Prentice Hall, Addison Wesley, Allyn & Bacon and Benjamin Cummings. Typically, professors or other instructors select or 'adopt' the textbooks and online resources they recommend for their students, which students then purchase either in a bookstore or online. Today the majority of our textbooks are accompanied by online services which include homework and assessment tools, study guides and course management systems that enable professors to create online courses. We have also introduced new formats such as downloadable audio study guides and electronic textbooks which are sold on subscription. In addition, we have a fast-growing custom publishing business which works with professors to produce textbooks and online resources specifically adapted for their particular course.
Higher Education Key Performance Indicators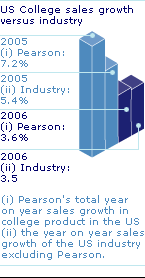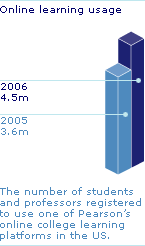 In 2006, our Higher Education business generated approximately 80% of its sales in the US. Outside the US, we adapt our textbooks and technology services for individual markets, and we have a growing local publishing programme. Our key markets outside the US include Canada, the UK, Benelux, Mexico, Germany, Hong Kong, Korea, Taiwan and Malaysia.
Higher Education: 2006 performance
£ millions
2006
2005
Headline
growth
Underlying
growth
Sales
795
779
2%
4%
Adjusted operating profit
161
156
3%
3%
Steady growth momentum
US Higher Education up 4%, ahead of the industry once again.
Over the past eight years, Pearson's US Higher Education business has grown at an average annual rate of 7%, compared to the industry's average growth rate of 4%.
Rapid growth in online learning and custom publishing
Approximately 4.5m US college students using one of our online programmes. Of these, approximately 2.3m (up almost 30% on 2005) register for an online course on one of our 'MyLab' online homework and assessment programmes.
16 subject-specific 'MyLab' online homework and assessment programmes now available supporting more than 200 titles. Research studies show significant gains in student success rates and productivity improvements for institutions.
Strong market share, student performance and institutional productivity gains in college maths, supported by MyMathLab.
In psychology and economics, two of the three largest markets in US higher education, Pearson publishes successful first edition bestsellers: Cicarrelli's Psychology together with MyPsychLab and Hubbard's Economics together with MyEconLab. Cicarrelli's Psychology increases Pearson's market share by 3% to 25% and is the bestselling launch of a first edition in the discipline in the past decade.
Continued strong double digit growth in custom publishing - which builds customised textbooks and online services around the courses of individual faculties or professors.
Good progress in international markets
Good growth in local language publishing programmes. Increasing focus on custom publishing and technology based assessment services with the MyLab suite of products.